"I didn't know the life I was missing."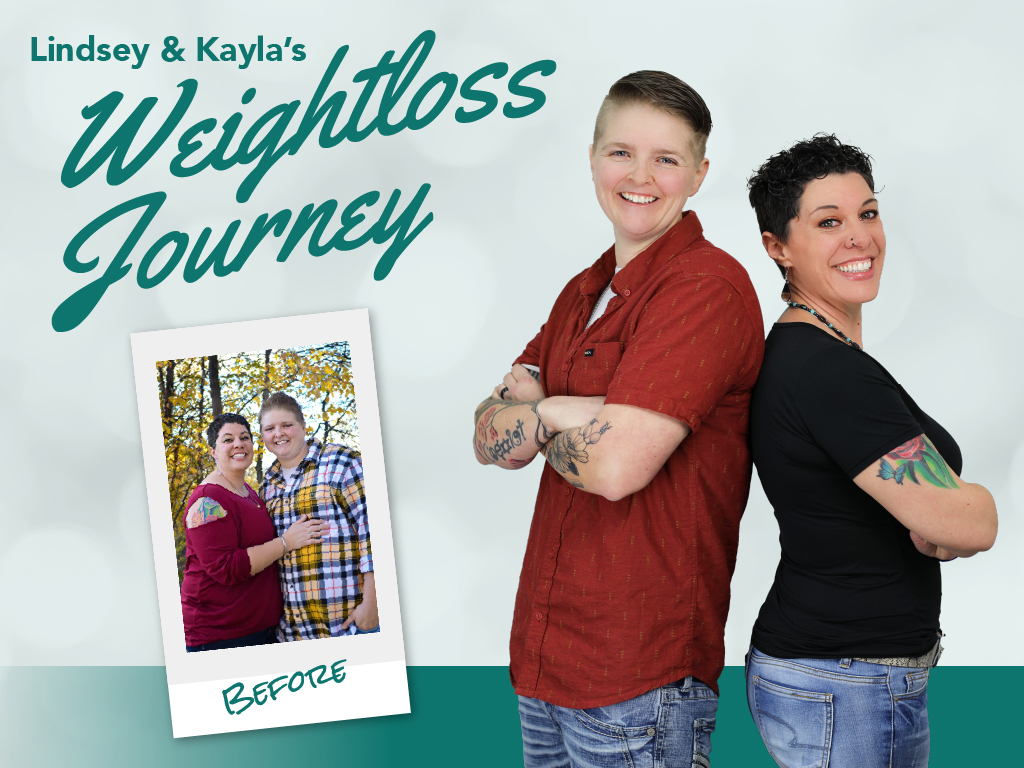 Lindsey & Kayla Krehbiel Stories
Lindsey Krehbiel
"In March of 2020 my life changed for the better when I had gastric sleeve surgery. As far back as I can remember I had always been the 'big' friend, and after having children I only got bigger. At my highest weight I was pretty miserable. I had tried multiple diets throughout the years, and they would work, but the weight would always come back, and then some. After going to a weight-loss seminar at Empower with my wife, I knew I was doing the right thing. The program at Empower was great. The classes, the dietician, and the physician were all so helpful. I went into surgery knowing I was prepared and that I would have the best support system after surgery. After surgery I met—and surpassed—my goal weight, and have maintained it for the last year. I really feel like I am finally in the body I was meant to have. I am able to keep up with my children, and I have much more stamina and am happier with life in general."
Kayla Krehbiel
"I first went to a weight-loss seminar at Empower to support my wife's weight loss goals. I wasn't thinking about my health and weight at the time, just getting her happier and healthier. I didn't think of myself as fat, and no one else seemed to see me that way either. But after my wife had her surgery and started losing weight, I started thinking about my own weight and health. For someone so young, I wasn't in the best place—having high blood pressure and type two diabetes. After speaking to the doctor and team at Empower, I was told that the gastric sleeve would be a great option for me as well. After having my surgery, I am no longer on blood pressure medication, my A1C is in normal range for the first time in years, I don't have any more joint pain, and I am in a healthy weight range. After losing weight, I am much happier and able to keep up with my kids better."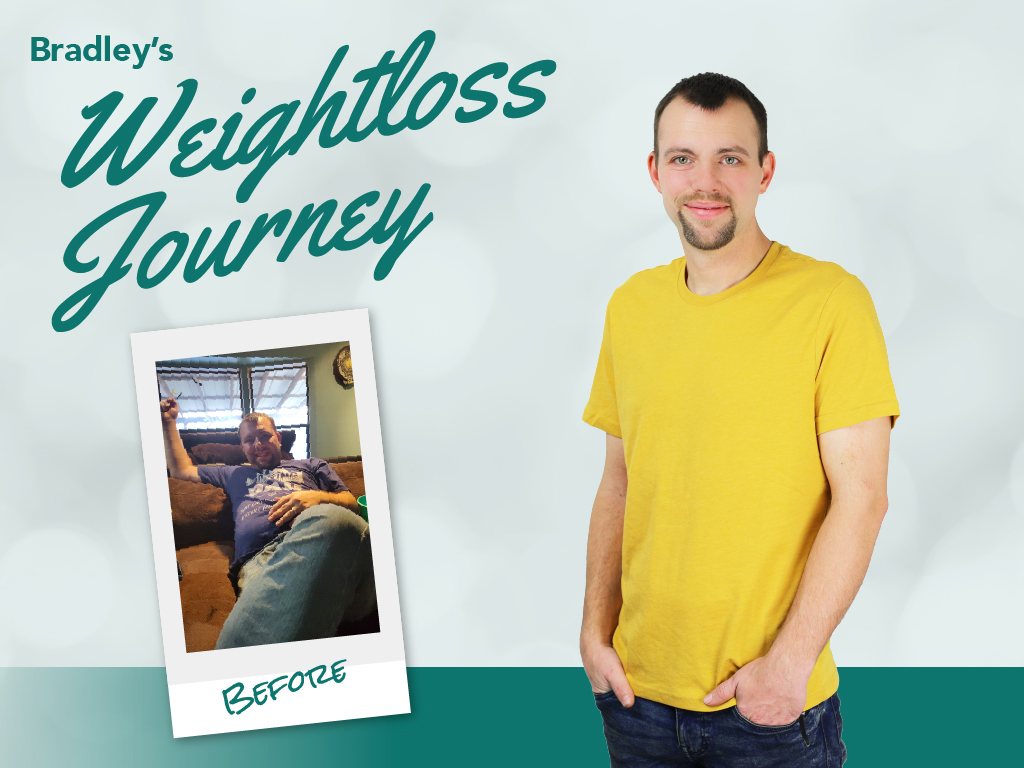 Bradley Tinsley
"I started my weight-loss journey just like anyone else. I attempted to lose the weight on my own and it never seemed to stick. That is when I sought out the help of the doctors at Bingham's Empower Weight-Loss Program.
"The orientation was very informative but I was still unsure. After meeting with the doctor and discussing my options, I decided that surgery would be the best option that would ultimately increase my likelihood for long-term success. I began working with the nutritionist to fine-tune my diet and prepare for the lifestyle change that I would be undergoing post-op.
"After surgery, I followed the nutrition plan set in place by the doctors and nutritionists through the Empower weight loss program. Once my diet progressed to solid food, I continued to watch my carbohydrate intake and really focus on protein. I started working out 3 times a week; by doing those things I was able to lose 94 lbs. I was never perfect in my choices but I tried every day to do better.
"I am so grateful for the opportunity to share my story with you. I hope people considering this surgery know that with hard work and determination you can also be successful."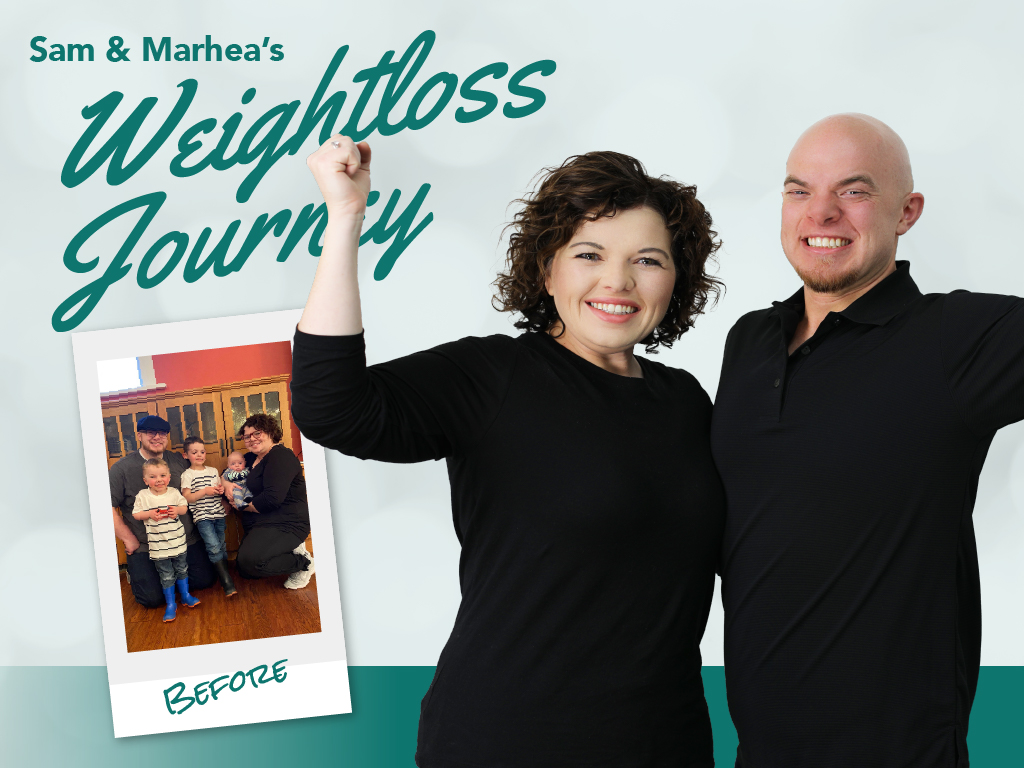 MaRhea and Sam Wadsworth Stories
"As a couple, we had tried for many years to develop heathy habits and a better lifestyle, but always fell short or didn't have the tools we needed.
"When having weight-loss surgery became an option for both of us, we couldn't believe it. We knew that we were prisoners inside the bodies we had created. Over the course of our lives, we have both turned to food as a coping mechanism, but never really felt happy after eating until we felt like we would burst, or indulging in sweets out of boredom.
"Making this change together has brought us closer and it's made our family better. Our two older boys tell us that they now love playing with Mom and Dad, and we go on outdoor adventures in the summer months. And currently our two-year-old keeps us moving so much that we know we would NOT be able to keep up with him if we didn't decide to do these surgeries.
"Thank you Empower for giving us our health and our lives back!"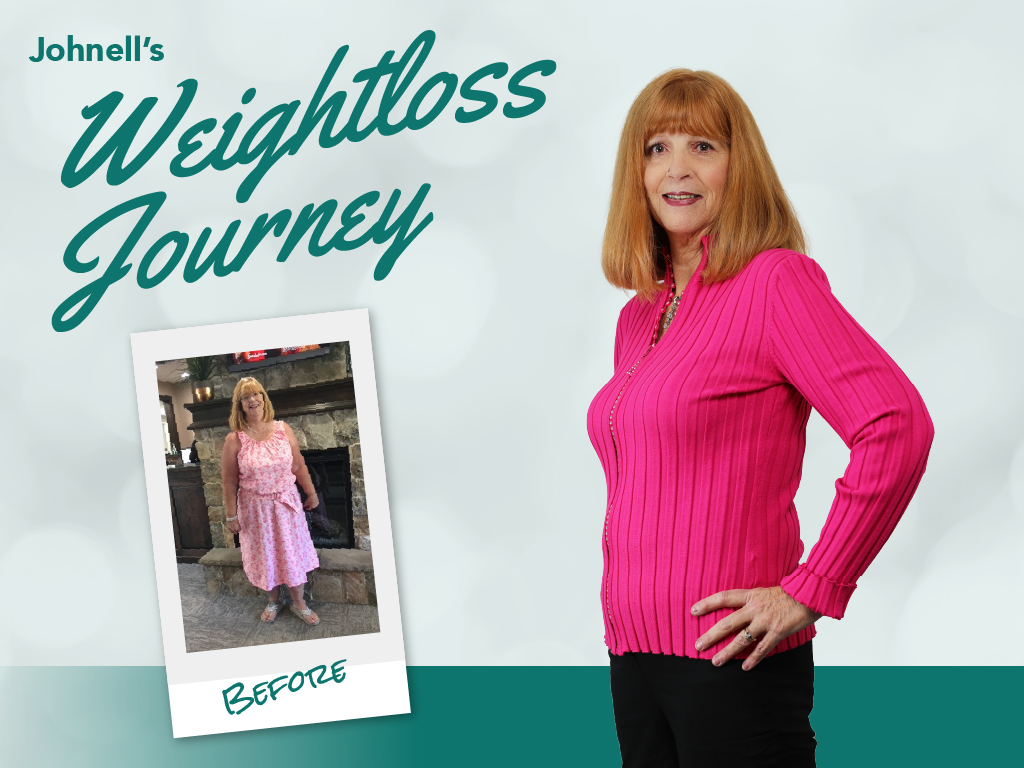 Johnell's Story
"I am 59 years old and have struggled with my weight since junior high school. I have tried many weight-loss programs to lose some weight, but only to gain it all back—plus some. I have had some health problems; I am a cancer survivor and I have fibromyalgia. Losing this weight with Empower program has help me feel better in my joints, knees, and every day walking. I used to always save my best bite for last, but I have learned to eat my best bite first then I can stop when I'm full not keep on eating until I get to see my best bite. Anybody who is thinking about getting the surgery and is scared, it saved my life it can save your life too.
"Thank everyone at Empower for helping me with my journey to get healthy."
Jammie Matheson
"In 2019, I decided it was time to do what I could to control my health rather than allowing my poor eating, sleeping, and exercise habits to control me and shorten my life. The nagging little voice in my head that kept telling me to gain power over my health wouldn't stop and I knew it was time to take action.
"I started out with medical scans to get a base line of my general health. Thanks to Empower Weight Loss, she discovered I had Barrett's esophagus. It was determined that with multiple high-grade lesions in my stomach, the severity of the disease and a previous personal history of stage-4 cancer that a gastric bypass would be the best treatment option. With fully understanding everything this diagnosis entailed, I quickly moved forward with surgery.
"Unfortunately, my dad passed away one day after my Barrett's diagnosis. I could have let this postpone my date for surgery, but the damaging fast food lifestyle accompanied by sleep apnea had caught up with me. This lifestyle had robbed me of my self-confidence, self-esteem, and health. I knew if I used my father's death as an excuse to continue to deal with stress by 'eating my feelings away' my days would continue to be numbered, and I wouldn't be far behind my dad in punching my ticket to get off of this ride we call life.
"I spent a few days in the hospital after surgery at Bingham Memorial. With the excellent care and patient massages, I could have stayed another day or two just to be pampered. However, I was excited to go home as my health had already started to vastly improve. While in the hospital my sugar levels had balanced out and my blood pressure was already under control. I went home with less long-term medications than I had been taking prior to the surgery.
"I had excellent support at home. I continued to focus on improving my nutrition by listening to and following the advice of family members, Empower Weight Loss doctor and the well-trained staff. For exercise, I started with the Chady Dunmore office chair workout. In two months, I was able to spend my summer trekking over mountains and watching my son race Enduro mountain bikes. In the years before the surgery when he raced I worked in the team tent helping with meals so my inability to hike was not obvious to those around me. I would always hide from physical activity because I was ashamed.
"The Empower Weight Loss team was able to predicta date that I would reach my healthy weight. They were exact with their estimate and within 5 months I had lost 80 pounds! I never thought I would be able to lose 80 pounds so soon after surgery, especially since I had surgery to reduce the looming risk of esophageal cancer.
"I have now taken back control of my health rather than poor health controlling my lifestyle. Thank you to everyone on the EM-POW-ER team and Chady! You have given me the tools to have power over the bad habits and health issues that were holding me back.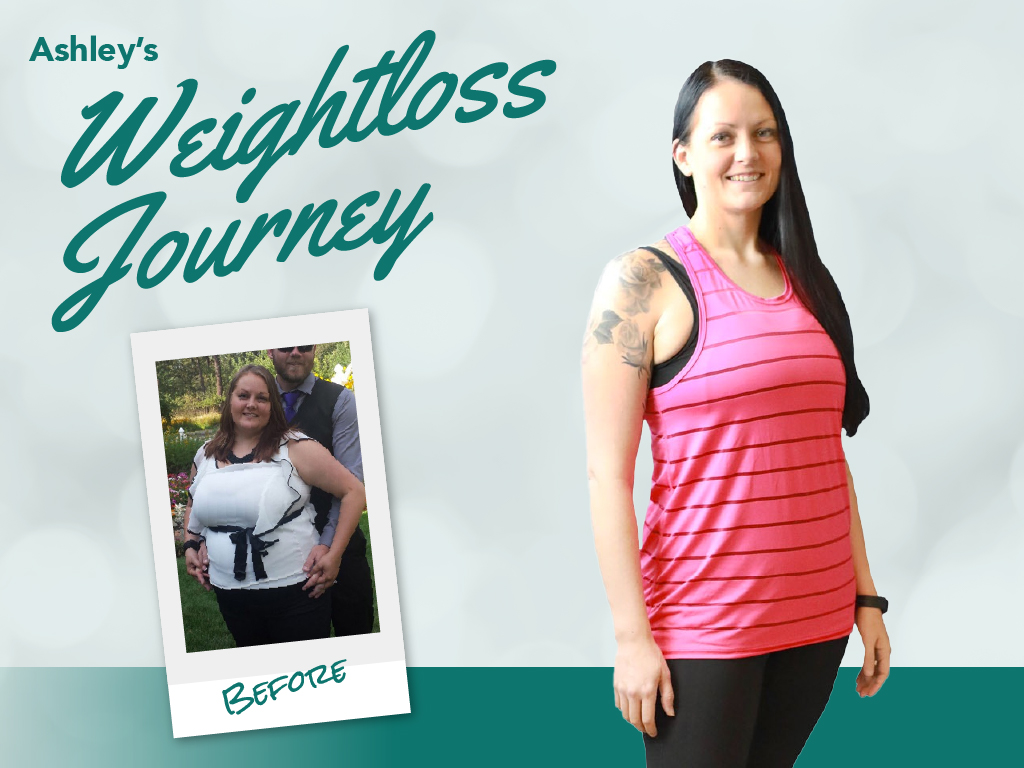 Ashley Durrant
"The changes that have taken place for me since I had gastric sleeve weight-loss surgery have been life changing! Honestly, the list could go on forever.
"Before surgery, I battled with depression, diabetes, low self-esteem, and a great deal of pain in all my joints. I was taking medication for diabetes because my blood sugar levels were all over the place, even while on a low-carb, no sugar diet. I had to have an inhaler on-hand at all times, which was extremely embarrassing to have to use when walking up the stairs to seats at the top of a movie theater. I was also on a high dose of Levothyroxine to treat an underactive thyroid.
"Since surgery, I'm happier—both physically and mentally! I'm now off blood sugar medications because my blood sugar levels consistently remain in a normal range. I rarely, if ever, have to use an inhaler. To manage my underactive thyroid, I'm still on a very small dose of medication. My energy levels are now through the roof and I love that I want to go out and do things with my husband and kids. I crave going to the gym and really appreciate how great my body feels after a strenuous workout. I use my workout times as a healthy outlet.
"Overall, I have more self-confidence and everyone around me can see that, especially my coworkers. I have battled depression my whole life, and, while weight-loss surgery didn't fix that instantly, the belief that I have in myself has helped me to overcome obstacles that once stopped me in my tracks.
"I have found peace in so many different ways that has helped me mentally and physically."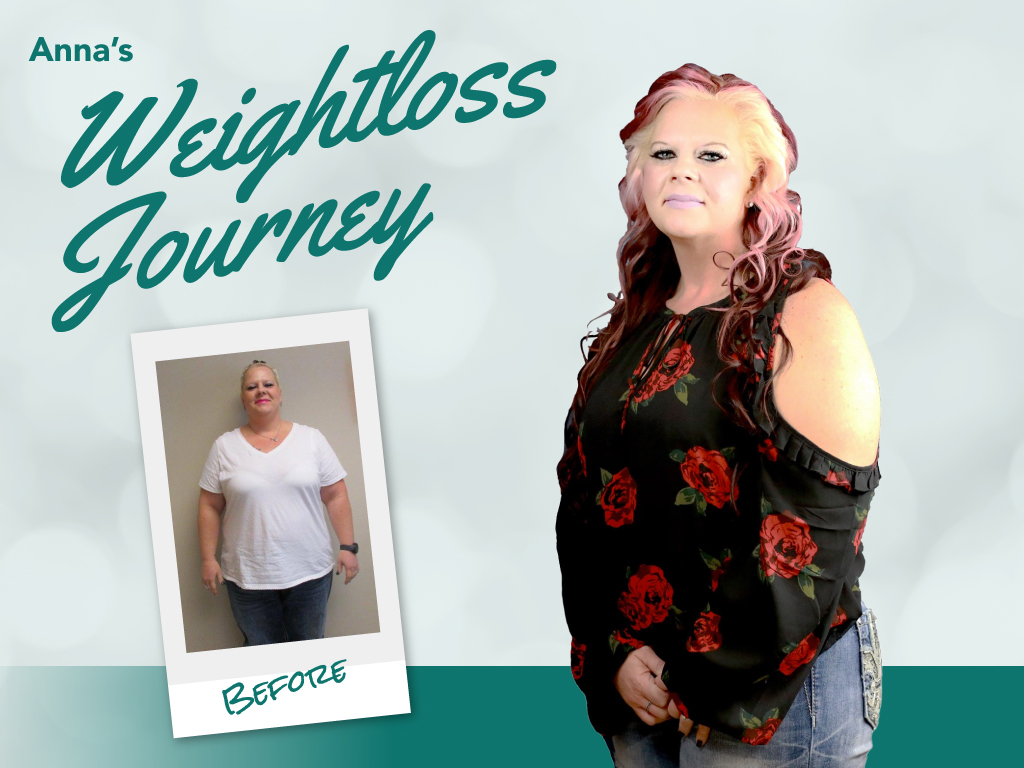 Anna Maria Jones
"Weight loss has never been easy for me. While I grew up as a skinny kid, when I started having children, that's when everything changed. Throughout the years, I have tried many diets; none of them have ever worked. When my first grandchild was born when I was 35 years old, that's when I knew I needed to make a change. At that time, I was close to 300 pounds, smoked, ate unhealthily, and didn't exercise. I started searching around for help with my weight, which is when I found Bingham Memorial's Weight Loss Center.
"I had my first consultations about gastric sleeve weight-loss surgery with the Empower Weight Loss team and it was amazing! Prior to surgery, they introduced me to the right people who taught me how to eat healthy. They helped me to get in the right mindset for the long journey I was embarking on with my weight loss. They also helped me start a healthy exercise routine and helped me to quit smoking; I've been smoke-free for two years and counting!
"When I started my weight-loss journey, I weighed 300 pounds. I now weigh 166 pounds and feel great! I eat, sleep, and breathe better than I ever have in my life. I also exercise five days a week and eat very healthy.
"I am not going to say that it is (or has been) easy, but I am just going to say all of the work has been worth it!"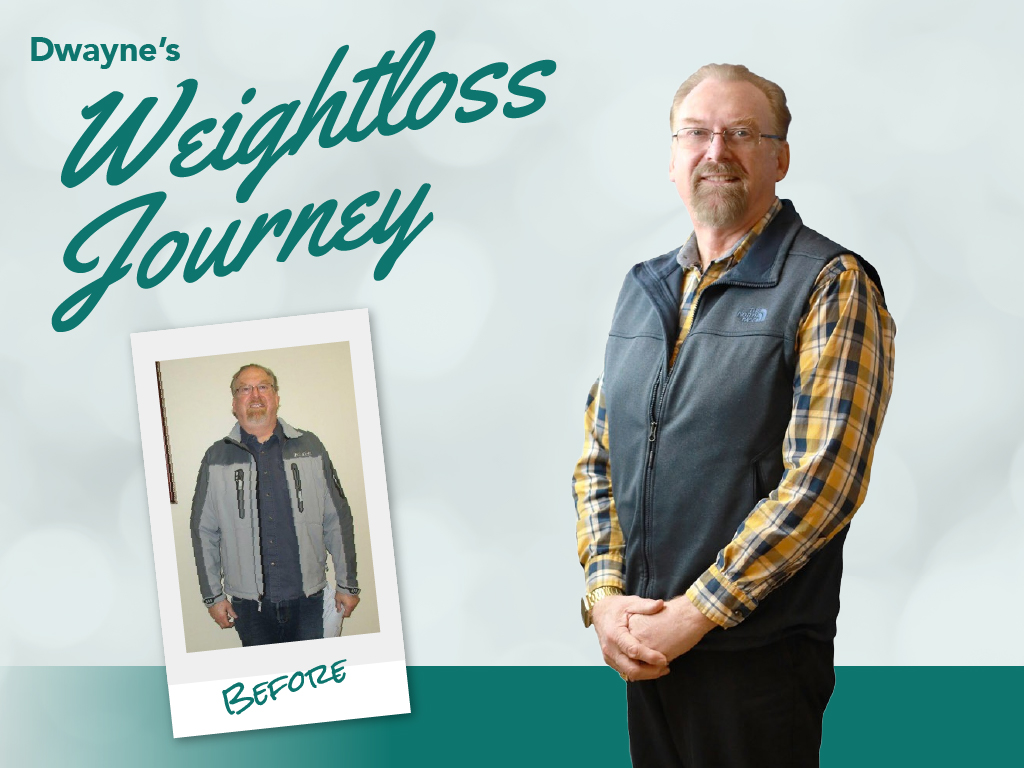 Dwayne Coburn
From the time I was 22 or 23 years old, I have struggled with my weight. Since then, it seems as though I had tried every new diet there was. For periods of six months to a year, some of the diets worked, but, inevitably, I would gain back more weight than I had lost. At my peak weight, I was 140 pounds overweight and on medications for high triglycerides, high cholesterol, high blood pressure, and high blood sugar. After a wakeup call having to go to the ER where they found my blood glucose level to be a whopping 300, I decided to take stronger actions to get my weight down. I looked into bariatric surgery as a tool to help me with my lifelong battle with being overweight.
"My first bariatric surgery was a lap-band, and, as a result, over the course of five years, I was able to lose approximately half the weight I needed to lose. Even with only half of the weight gone, I was able to get my blood sugar back under control and came off the glucose control medications. Once I had plateaued for several years with the band, I decided to have the band removed and undergo a gastric sleeve surgery. (I was no longer a candidate for gastric bypass surgery based on my success in losing the first 70 pounds.)
"I was first introduced to Empower Weight Loss when they agreed to provide care after my lap-band surgery (when my doctor was no longer available to do band adjustments). This was no minor service as most doctors I talked with refused to provide this type of care if they didn't perform the original surgery. When it came time to decide to where to have the gastric sleeve surgery, I didn't have to look any further than Bingham Memorial since they had graciously allowed me to have follow up care with them from my previous surgery.
"The team at Empower Weight Loss have done a fantastic job with the gastric sleeve surgery. The holistic approach of not only using the sleeve as a tool but also providing robust follow up on care, dietary, training, and support groups have been the key to the success I have had. I have been at my goal weight for 18 months and finally feel normal without all the yo-yoing up and down in weight. As my blood pressure and lipids all returned to normal once the last of the weight was off, I was taken off all medications for my previous conditions.
"I have no doubt that my choice to have the gastric sleeve surgery has added years and maybe decades to my life. I feel very thankful I made the right choice in selecting Bingham Memorial's Weight Loss Center to provide me with the tools to live a healthier life and for guiding me in my success to reaching a healthy weight."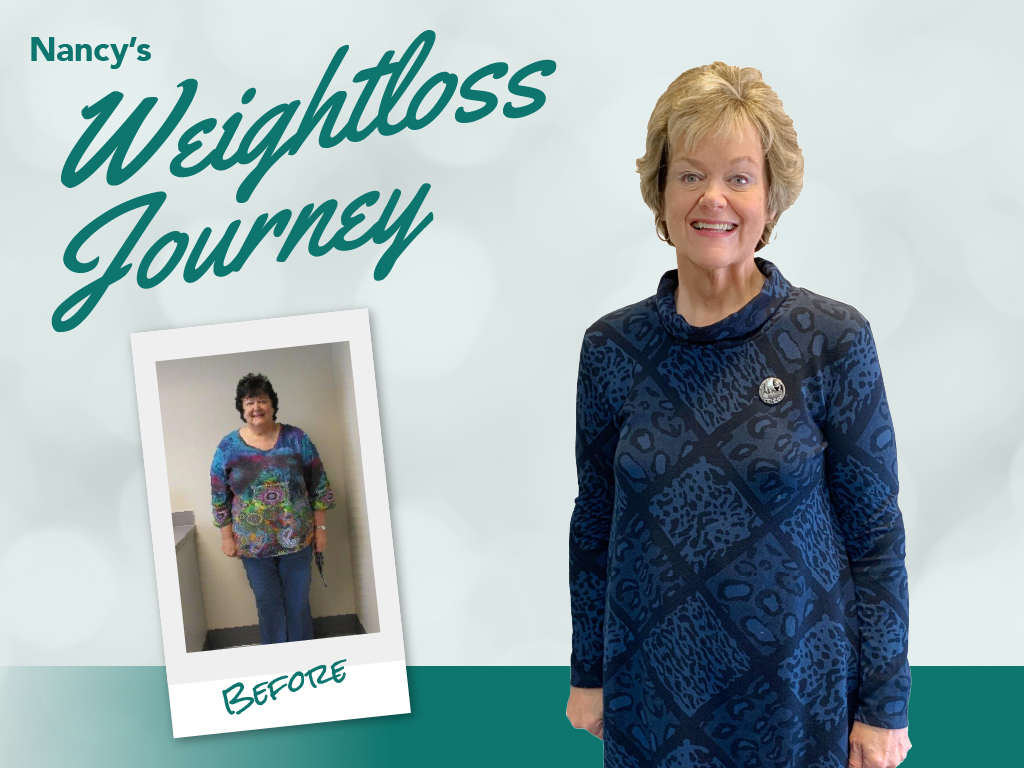 Nancy Lopez
I wish I had aged like fine wine, but by the time I reached my 60s, I had accumulated quite a bit of weight and associated health problems, which were really affecting my enjoyment of life. I had sleep apnea, back pain, high blood pressure, and heart issues, on top of a thyroid condition. It was hard to walk up steps or any distance, and I was having a hard time keeping up with my four little grandkids. I wanted to travel with my husband, but the idea of plane travel or hanging out in a swimsuit on the beach wasn't very appealing.
After 30 years of yo-yoing my way to obesity, I finally realized that I couldn't lose wieght on my own. Or rather, I couldnt KEEP any weight loss off. If I lost 20 pounds, I was sure to gain 25 pounds back. I have learned that I am not to blame for this cycle, but that it is our typical physical response. I began to hear about the success people had in recieving a sleeve gastrectomy and started exploring my options. I am so happy that I found my way to the wonderful, supportive team of Empower Weight Loss. The information and guidance they have provided to me made the surgery and follow-up care go so smoothly. The pain was minimal and I had no feeling of deprivation.
After one year, I have lost nearly 100 pounds. I hope to lose another 25, but my life has already changed. My blood pressure is normal, which is good for my heart. My sleep apnea is almost gone, and my back pain is much improved! I can move and exercise one again. I love to ride my elliptical bike and my bicycle.
My biggest "problem" is trying to pare down years of accumulated clothing. It's so fun to shop! I feel so much better about myself, and I know my husband is proud of me, too! I believe that others treat me with more respect. I am also looking forward to traveling.
Like the saying goes, I might have added years to my life, but I know i have added life to my years! I am only sorry that I hadn't taken this step years ago!
Kirk Nelson
"For a long time, I was very heavy and self-conscious about it. I did some research online about weight loss and chose to go to Bingham Memorial's Weight Loss Center because it was close to home, and, more importantly, they had the proper accreditation for weight loss. I asked many questions and they were answered. 
"During the fall, I had gastric bypass surgery and it changed my life for the better. I was extremely pleased with my results. I was so pleased, in fact, that my wife had weight loss surgery there, too. I know that this surgery has improved my life and that I will live longer because of it. 
"My success has not just been entirely my doing, and I've never felt like I have been alone on my weight-loss journey. I strongly believe that one of the key reasons for my weight-loss success is because of the monthly support group meetings at Bingham Memorial. The knowledgeable weight-loss specialists at Bingham Memorial have helped me through this significant lifestyle change. All of this was a team effort. I have the dietitian on speed dial. The help after surgery is where I have seen the real value. The weight-loss team at Bingham Memorial helped me to achieve my weight-loss goals. 
"I cannot think of how my weight loss could have gone any better. Thank you all at Bingham Memorial!"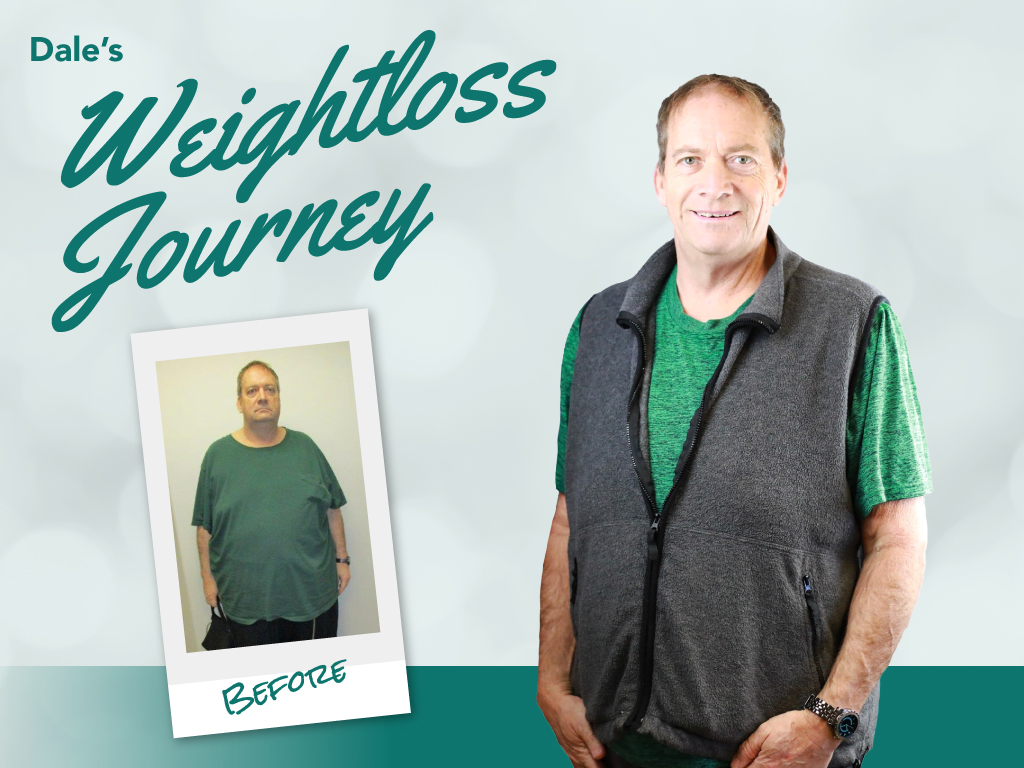 Dale Cummings
"I started out on my weight-loss journey after I quit driving a semi-truck and when I weighed 591 pounds. I was barely able to get in and out of my truck and was close to being bed-ridden. I developed a serious skin infection and was told I would need to be on an antibiotic for the rest of my life to treat it. The dermatologist I was seeing told me that I didn't deserve to live like this and helped me by referring me to Empower Weight Loss.
"Soon after I started seeing the Empower team, they told me about an incredible high-protein diet, and, in the first ten days, I lost 15 pounds. From there, about every 10 days, I was able to loose between seven to 12 pounds. I have now lost 353 pounds with the help of my girlfriend, the Empower Weight Loss team, and Dr. Maloff (who was able to remove my lower belly apron—excess skin, tissue, and fat).
"Thanks to all of them, I have a chance for new life. Thank you to everyone who has helped me on this journey!"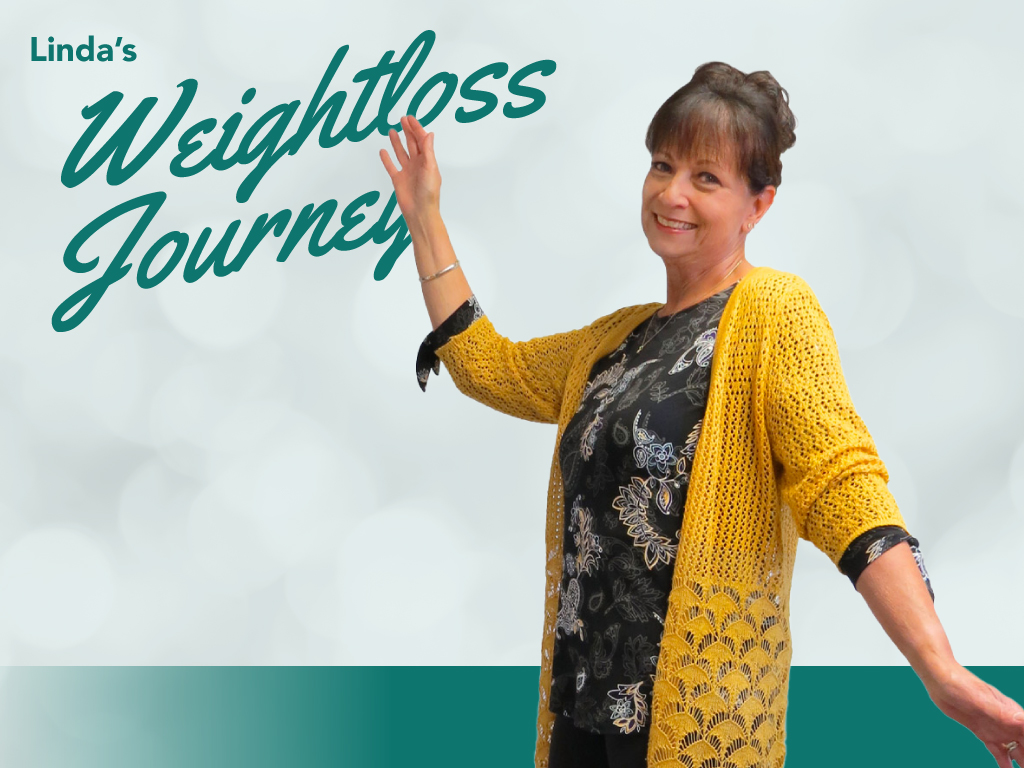 LINDA GAIN
"My weight loss has changed my life. My main goal for my choice with the gastric sleeve surgery was to live a longer and better life for my family.
"I no longer need to use a CPAP machine, which is one thing I learned by carrying the extra weight—I had mild sleep apnea. Also, I no longer need to take medication for heartburn and my medications for high cholesterol have been reduced.
"I now enjoy clothes shopping and love the look on my husband's face when I step out of the dressing room and what I have tried on looks good! In addition, I am now walking everyday around Jensen's Grove and look forward to it. And, I feel so much better afterwards.
"I truly owe my success to the Empower Weight Loss team! These girls are always there to help with questions and concerns and their encouragement is incredible."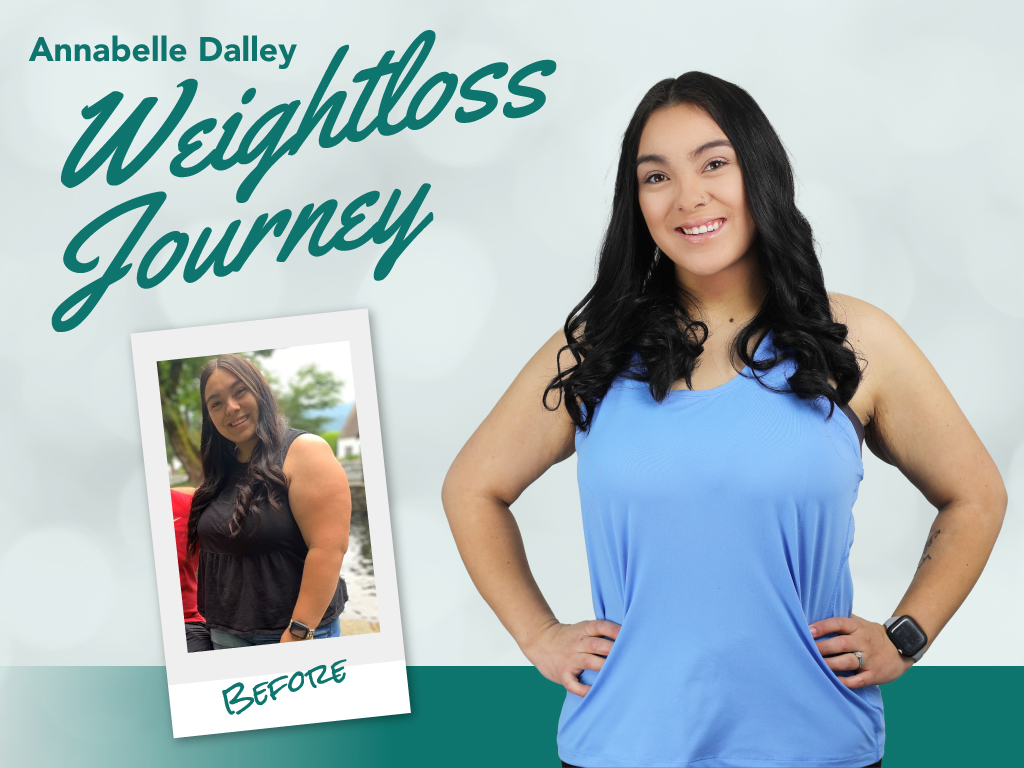 Annabelle Dalley
"This weight-loss journey has been amazing, and it's been mine!
"Right after my son was born I weighed in at 246 pounds—my heaviest weight. I was so ashamed of not being able to keep up with a baby, yet alone able to keep up with my 10 year old. I was exhausted, just getting her up and out the door for school! I knew it was time to change, when my daughter wanted to go to the park after school but I had to say: 'Mom is too tired.' And, I was only 25 years old! Why was I telling her no?
"I was introduced to Empower by a friend of mine. I started by participating in the online seminar and was able to meet with my doctor within a month. I was put on a six-month weight-loss plan, and I got to meet with the dietician frequently. It was so encouraging to have someone there the whole time! After my six months of prep, it was surgery time!
"I am just about five months shy of my one- year post op and I currently weigh 169 pounds! The whole team at empower has been amazing in every step of my journey and I couldn't be happier or more grateful for the lifestyle they have taught me to live!
"Don't sit around and feel sorry for yourself, get up and do it!"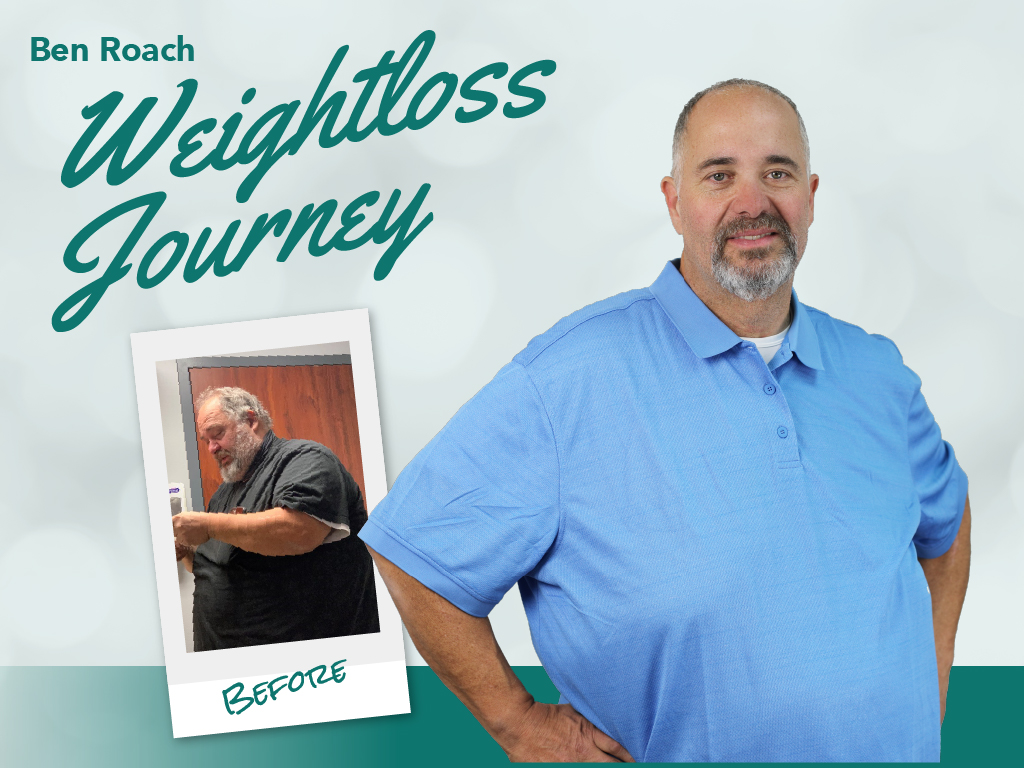 Ben Roach
"In August of 2021 my sister passed away and I realized at her funeral that I was on the same track she was on; different life issues but life issues the same. I realized I didn't want to die."
"I had seen Dr. Rendon and he had challenged me to lose 80lbs. I had been 'trying' for a while and made every excuse why the weight wasn't coming off. In fact, I had actually gained more weight and at her funeral I was 455lbs. I was so mad at myself. On the way home I decided to make an effort to stop making excuses and love myself. Easy words to say but hard words and I needed to adhere to them"
"The team at Empower gave me tools that I needed to succeed. I began the liver shrinking diet but a little more restrictive than even that. My gout went absolutely nuts and I thought I had torn the tendons in my elbow again. Within 10 days, I weighed 23lbs less and my wife and I just looked and felt like it wasn't possible. The joy from that was immeasurable. I couldn't stop smiling. I smashed my 80lb weight-loss goal and ultimately lost 100lbs after my surgery."
"Currently I weight 267lbs and am going strong, eating healthy living healthy, and staying true to myself and what's important. A thought that always sticks in my head: Why is the rear view mirror so small? Because we are not going that way."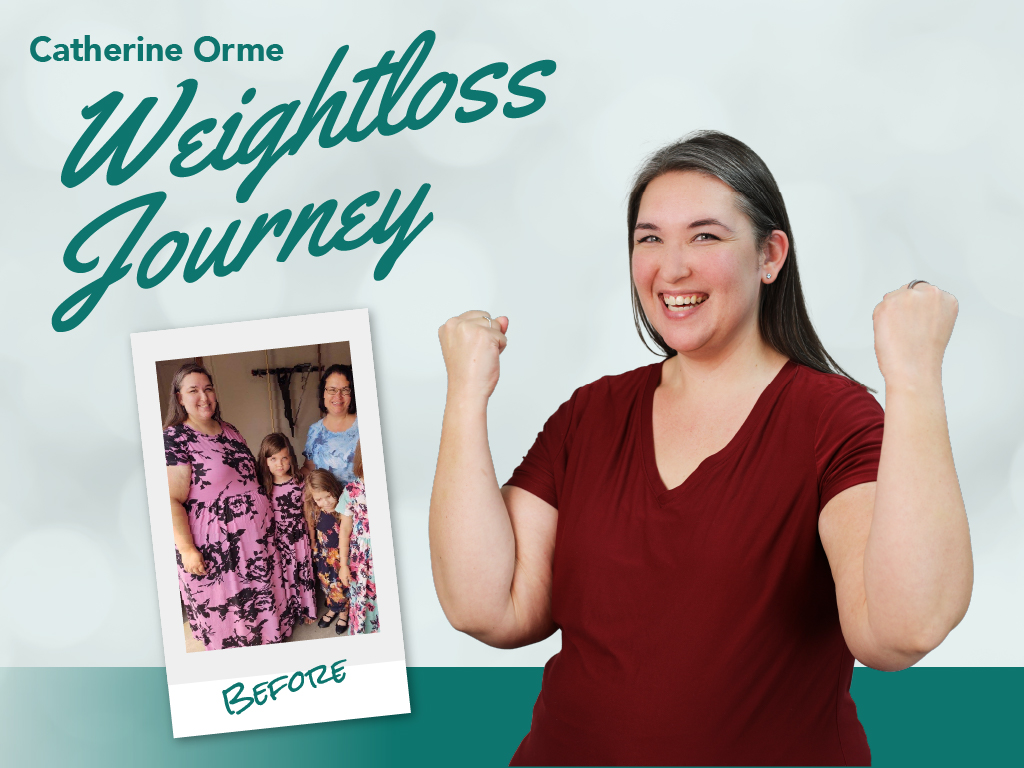 Catherine Orme
"For 11 years I steadily gained weight. I tried a few different diets with little to no success and they were so strict I felt very deprived. Ultimately, I would give up and get right back on the weight-gain train. I read once that in order to change, the pain of your circumstances must become worse than the pain of change. I definitely hit that point. The excess weight was keeping me from living my life and being comfortable in my own skin.
"My doctor referred me to Empower and they gave me all the tools and support I needed to succeed. Tracking my food intake, being more mindful of when I was full instead of when I was satisfied, and having some freedom within my daily numbers was a huge help and made my efforts successful. It wasn't easy, but I never felt restricted or deprived. I finally had a way to be more responsible with my eating, while still enjoying what I love. I can move more easily, fit clothes comfortably, and am so much happier. I am forever grateful to Empower for setting me on the path to success.
"Two inspirational quotes that I live by:
"You are far too smart to be the only thing standing in your way.' -Jennifer J. Freeman
'If it doesn't challenge you, it won't change you.' -Fred Devito"
Lisa Morrissey
"Taking that first step into the Empower Weight Loss clinic at Bingham was the single best thing I have ever done for myself!
"For so many years I let my weight control me. I sat on the sidelines and watched as my life passed me by. Growing up and into my 20s I was always the 'skinny girl' but after a complete hysterectomy at 30, I began gaining weight. I was eventually prescribed two different blood pressure medications: medication for high cholesterol and depression. I was on a CPAP for sleep apnea as well as sleep medication for insomnia. At just shy of 272 pounds, I was always sick and unhappy. I turned to food for comfort. I made excuses for every aspect of my life but was too tired and basically too lazy to change it.
"Four years before I committed to changing my life, a cardiologist suggested I looked into bariatric surgery. I decided at that point it was not for me and talked to my family doctor about diet pills. These did not work for me so I continued to lie to friends about having plans when I was invited to do things. If I said yes, I would later have 'something come up' and cancel. I canceled so much, friends stopped inviting. I even made excuse not to do things with my family. I would sit on a bench and watch my husband play with our grandchildren, watch everyone in my life 'do' while I 'didn't do'.
What finally prompted me to call and schedule my initial consultation at Empower was having two of my children got married and I was unable to find or fit into a dress. On one of the happiest days of my daughter and sons lives, I did not want to be in either of their photos. I was sad, lost and embarrassed when I walked into the clinic office the day before Thanksgiving 2021, but left excited and hopeful!
"My surgery was scheduled for May 20th, 2022. I almost let my own fear cause me to cancel the day before. I truly believe taking the first step and contacting Empower Weight Loss saved my life. It has and will continue to be a lifelong journey. They gave me the knowledge and tools I needed to succeed. Something switched when I read the success stories of previous patients. I wanted to be a success story like they were. They gave me the inspiration to put forth the effort. I committed to myself to put everything in me to succeed! I wanted this for me. Although I had so many people say I 'was taking the easy way out' I did not let that deter me. I used it as an additional motivator.
"I am lucky and have a strong support system in my amazing husband, three wonderful grown children and their spouses, the two best grandchildren any Mimi could ask for and so many great and supportive friends. I can attest that weight-loss surgery is not an easy way out by any means. It is also not a magic fix. You will get what you put into it and I have and will continue to give it my all. This is a lifelong journey.
"Dr. Rendon and his team give you all the tools you need to succeed but ultimately it is up to you to use them. If you put in the work, you will not be disappointed. My life is so full and happy since having the gastric sleeve surgery. I am finally really living my life. Not just watching it pass me by. At just eight months out from surgery, I am down 105 pounds and 17 away from my goal. My BMI went from 42 to 26 and I have gone from a tight 18/20 pants to a size 6, a tight 3 XL top to a me! I have lost a total of 86.5 inches overall. My support system is proud of me but what means the most is the fact that I am proud of me. Shopping no longer makes me cry! I can cross my legs now and sit on the ground and play with my grandchildren. I went down the slide with both my grandchildren at one time. Not just a slide but the tube slide! My friend told me I looked skinny and I cried happy tears! I had not heard those words in over 20 years!
"I know it is a cliche to say, but if I can do it, anyone can do it! I have no doubt I have added many years to my life. I no longer take all those meds and no longer use a CPAP. I do not feel sick all the time, and I have endless amounts of energy. I am healthy! The physical and emotional rewards I have experienced are indescribable. The only regret I have is that I didn't do it sooner. Thank you to everyone at Empower Weight Loss Clinic at Bingham for everything you do for your patients and for giving me the tools and knowledge I needed to make a change in myself. You saved me from me and I will forever be grateful."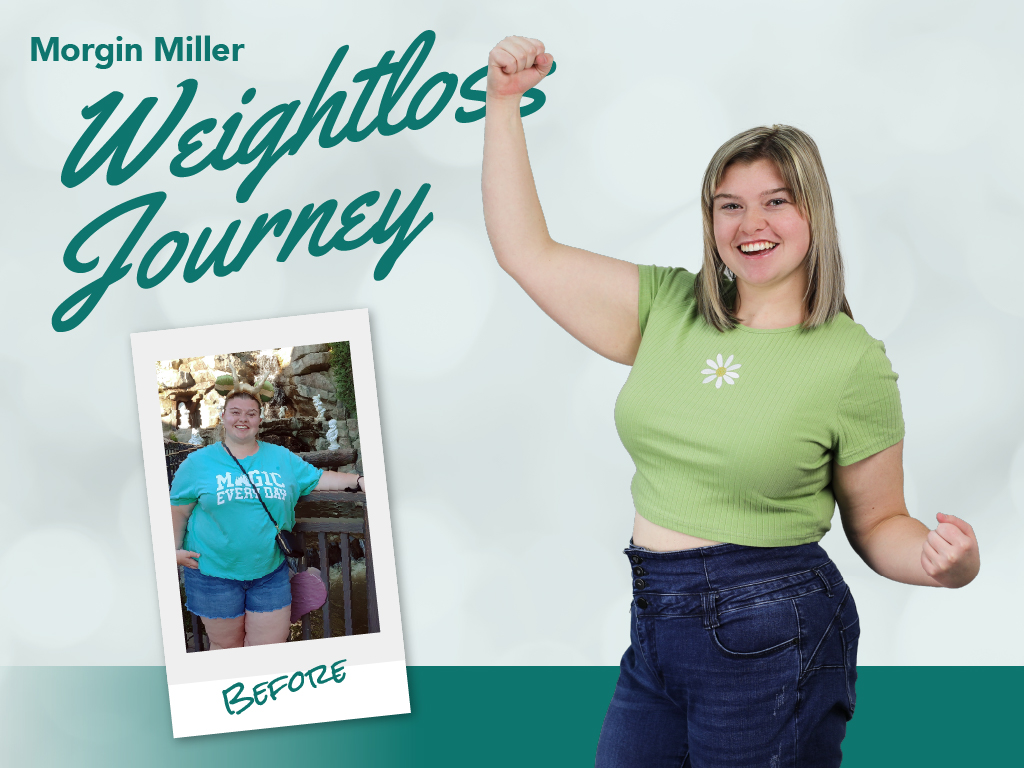 Morgin Miller
"Growing up I was never the same size as the other girls around me. I was always a little heavier set. As I aged, I tried many different ways to be the way society made me feel I needed to look like. I started dieting from a young age and I would see some results in weight loss but it never lasted. With the dieting, my mood or energy levels never changed either, and for a long time I felt that I was destined to be this way forever.
"As I matured, my metabolism and mental health declined. My mom was always there for me and worried. We ended up going to the doctor and I got diagnosed with insulin resistance. This in a way was comforting to me. Now I knew why the dieting and the exercise didn't work for me the way it did for others. The doctors prescribed medicine to help my metabolism. However, it still was not working, and eventually I did come to terms with my weight and that this is who I am. It was hard because my mind set still made me believe that I could not do what others my age were doing, such as sports, hiking, playing night games, or even dancing publicly. My energy levels were so low and I had an immense fear of people judging me or even looking at me because I was bigger.
"After high school I moved out and this was a big test for my physical health. While living at home it was manageable, but once I moved out I didn't exercise as much and I was definitely not eating correctly. I was at the heaviest weight here then I had been in my entire life. I was now 300 pounds and it became very hard to wake up and do normal things. I had zero energy and zero want for people to see me because I was ashamed at what I now looked like. At this time I had a friend that had just completed her gastric sleeve. After hearing about her procedure I became very interested in what it could do for me. My mom and I started our own research and came across the Empower program.
"It is hard to express into words what this program did for me. I can now walk up flights of stairs without losing my breath. I am not afraid to walk outside in shorts and a short sleeve shirt. I can join in to activities that I couldn't before like pickle ball, laser tag, rollerblading, hiking, etc. My whole life has changed in such a big way it is hard to grasp sometimes. I now feel joy in exercising and my relationship with food has become a healthier one. My relations with others has become better because I am more confidant and feel like I can do anything now. This program has been a blessing in my life that I do not take for granted. As I continue down the road of this new life I strive to live for every moment and do everything that I felt I could not do before."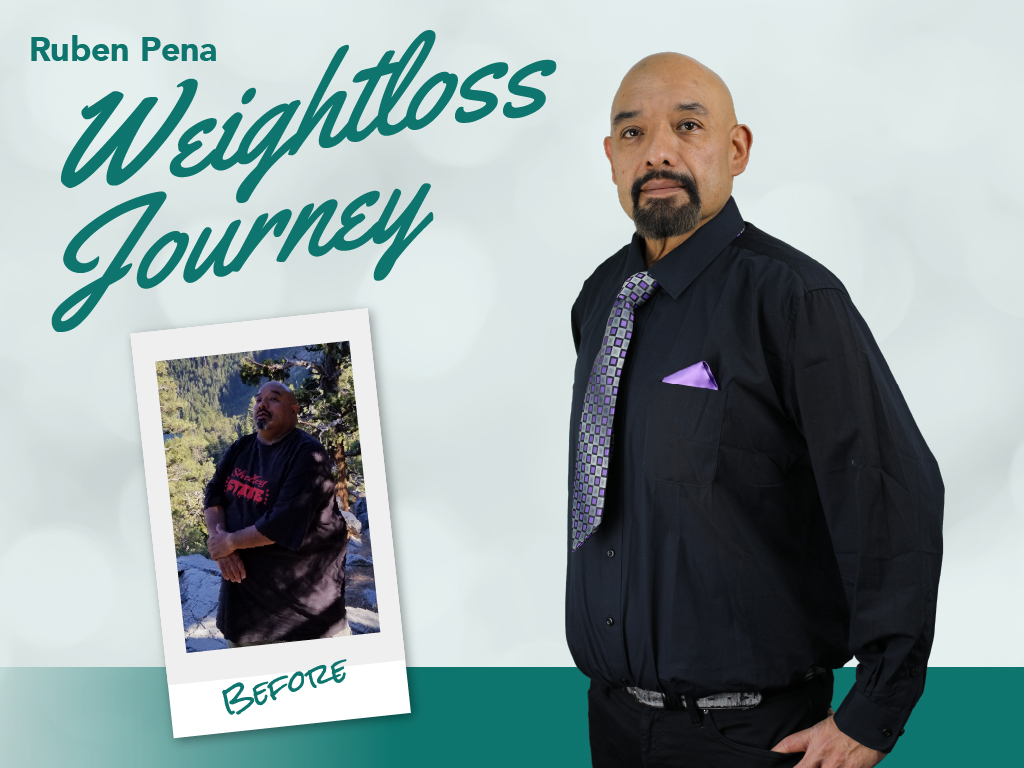 Ruben Pena
"In our lives opportunities will come and go but some opportunities are worth fighting for. Seize your opportunity for yourself and a new way of life."
"My journey started in the winter of 2020. I never knew how much I weighed and finding a scale that goes over 400lbs was something at the time I never could find. It seemed like everywhere I went I would try to find somewhere to sit just to get off my feet so anything that took standing for short periods of time I would need a plan or just would not attend. I had some intense pain going on in my back, knees, and feet and decided to go see the doctor and find out what they could do. I went to jump on the scale and my weight was a whopping 437lbs. I was shocked at the number and could not believe I jumped up so much in just one year and knew I had to make some major changes to my health if I wanted to have a different outlook for my future. So, I started to diet on my own and was able to drop about 30lbs.
"I had gained most of the weight back that I had lost when I had my next visit in early 2021. I raised my concerns with my doctor, and she recommended that I might be a good candidate for Bariatric surgery, so she referred me to Empower. I scheduled an appointment with Empower for orientation in early May and met with Dr. Rendon. We went over all the possible options that would work best for me and my health. I decided to go with the bariatric sleeve and thought that would be the best option for me.
"Dr. Rendon informed me that for a safe surgery I would need to lose at least 50lbs. I had most of my weight on my belly so this would be crucial for me to do before surgery. At this moment I really started to doubt myself and really wondered if this was something I could actually do. So, I decided to take this opportunity that was given to me and seize it for myself and give myself a new future in my health. I already knew what the outcomes would be if I kept on the same path I was on.
"So, I met with Empower and we went over all my future appointments. They answered all my questions that I needed to know at the time, and they walked me through what I needed to do to get to my surgery date. And as my weight-loss journey had started, I met with a dietician from Empower and went over what amount of carbs and protein would work best for me. They showed me how to log in all my meals and stressed the importance of logging everything in that I was eating. I was given some important valuable tips and what I could do to help change my way of eating. With all their support and guidance, I was able to lose almost 100lbs before the surgery and had a good handle on what I needed to do after surgery. I felt very prepared and confident before my surgery and that goes back to the Empower team that helped me get to that point.
"A year after my surgery I was able to lose over 100lbs and now I am weighing around 210lbs and have never felt better. I was able to enter my first 5K and I am training for some 10Ks this spring. I never thought I would be where I am now and probably wouldn't if I hadn't taken this opportunity that was given to me.
"Empower was with me at the beginning of my weight-loss journey and is still with me now. At the time when I was asked what I thought my ideal weight should be I said around 200lbs. At the time I never thought that would be possible but the more I worked on my program and combined with all the encouragement I started to believe in myself. So, if you're on fence about your weight loss-journey, go see the empower team and see what options they have for you to help with your life changing goals."